Cybersecurity Awareness and Training
Cyen's Iva Tasheva interviewed Ms. Rosanna Kurer, Managing Director, CyberWayFinder and Belgium's Cybersecurity Personality of the Year 2021. We discussed why and how to create a cybersecurity awareness and training programme. Rosanna shares tips and tricks, where to start when creating cyber security awareness and training programs, the upskilling and reskilling options and where to find free materials and resources.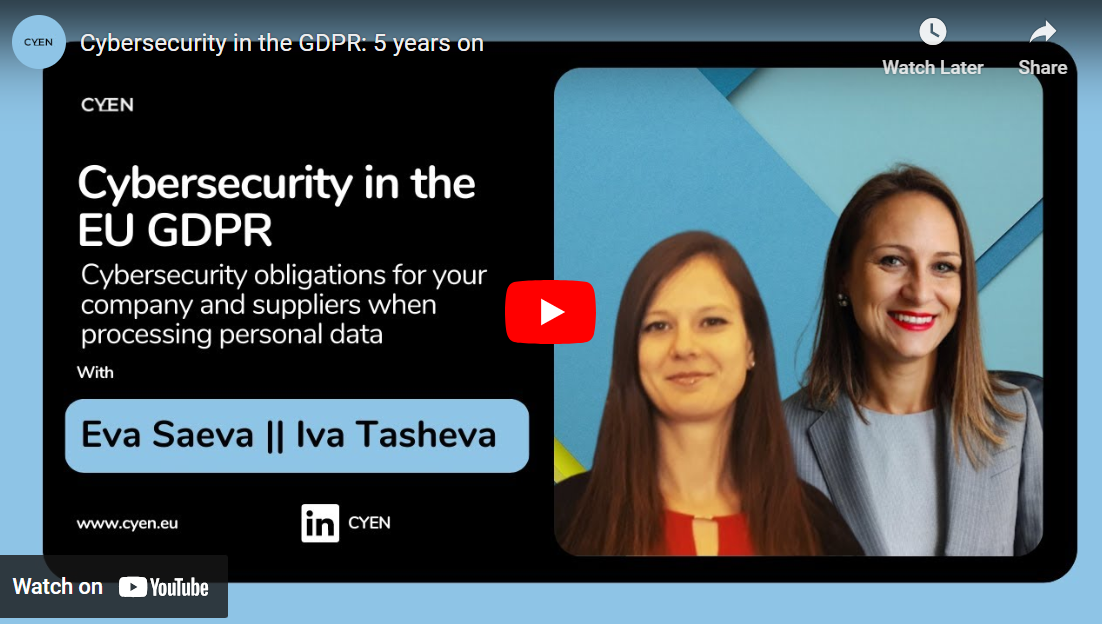 Cybersecurity in the GDPR
On 22.05.2023 Cyen's Iva Tasheva and Eva Saeva celebrated 5 years since the GDPR came into force in 2018 and discussed the cybersecurity requirements in this landmark EU data protection law. They focused on the different technical & and organisational measures companies need to adopt to protect the personal data they store and process, and the different cybersecurity requirements each company needs to adhere to to comply with these measures.
Cybersecurity in the MDR and IVDR
On 31.07.2023 Cyen's Iva Tasheva and Eva Saeva escribe the cybersecurity requirements under the Medical Devices Regulation (MDR) & the In Vitro Diagnostic Medical Devices Regulation (IVDR). They also touch upon the interrelation between the obligations under these two regulations and the other EU cybersecurity laws applicable to the health sector and the medical devices manufacturers.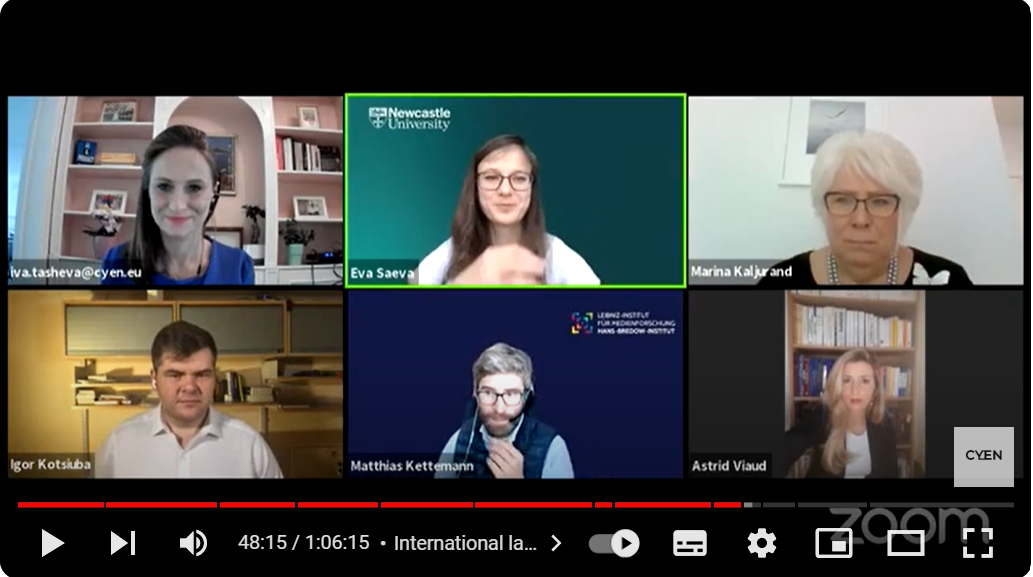 Cyen hosted an online event 'Sanctions in cyberspace: the EU and the US diplomatic approaches'
Cyen participates in Forum Europe/ECSO 9th Annual Cybersecurity Conference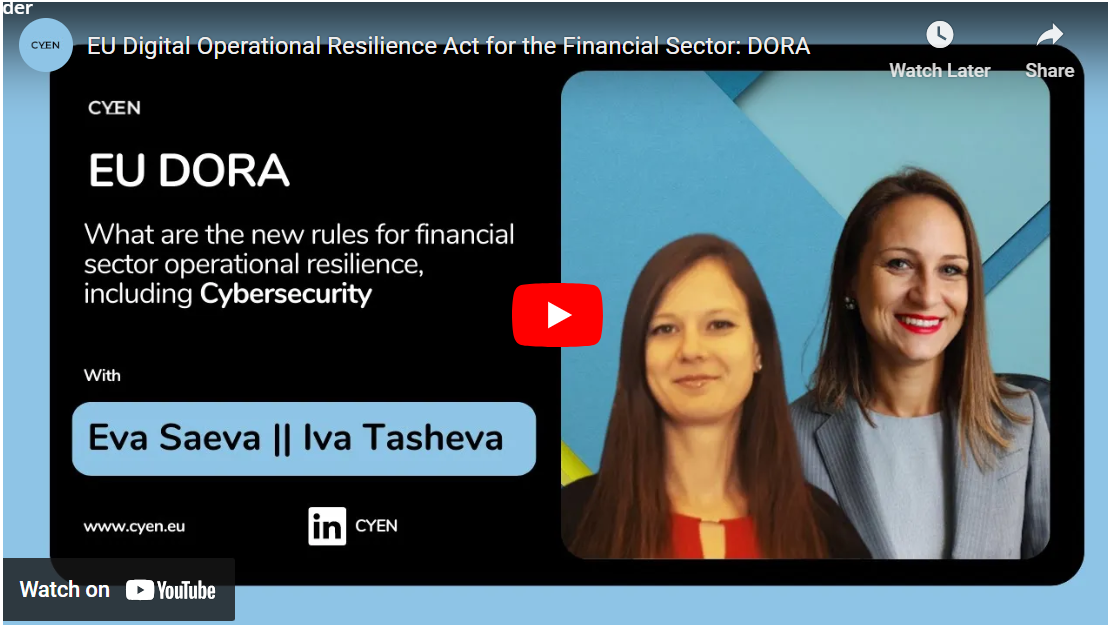 EU Digital Operational Resilience Act for the Financial Sector (DORA)
On 04.04.2023 Cyen's Iva Tasheva and Eva Saeva discussed the DORA, the newly adopted EU Regulation on Digital Operational Resilience for the Financial Sector. The sector remains one of the most targeted by cybercriminals increasingly taking advantage of the cybersecurity risks posed by the supply chain.
The interview addressed the new requirements and obligations for entities within the scope of the new legislation, such as cyber resilience, ICT risk management, incidents reporting obligations, digital operational resilience testing, information sharing regarding cyber threats & incidents, and managing ICT 3rd party-related risks.
Interview On Belgium's Cybersecurity Framework
On 07.03.2023 Cyen's Iva Tasheva interviewed Valéry Vander Geeten, Senior Legal Officer and DPO at the Centre for Cybersecurity Belgium. We discuss the Belgian cybersecurity framework – present and future initiatives, including NIS2 implementation & the lessons learnt from NIS1. We discuss enforcement options, available cybersecurity frameworks and developing guidance, incident notification, and supply chain cybersecurity challenges. Tune in for more details about the newly adopted framework for reporting IT vulnerabilities in Belgium and what it means for companies, ethical hackers & security professionals. Further information is available in the comments..
Interview On Cyberbullying
On 07.02.2023 Cyen's Iva Tasheva interviewed Janice Richardson, Exert to Council of Europe and published author on the topic of cyberbullying. One out of every five students reports being bullied and 60% of the bullying moves online – to become cyberbullying. The consequences for kids and young adults bullying could be devastating. This is a risk and problem for individuals, families, regions, and society. Janice shares her experience, discusses the challenges and trends, and how cyberbullying differs from traditional forms of bullying at that age. Janice shared her recommendations on preventing and reacting to cyberbullying and the most recent actions taken to address the issue at the European and Global levels.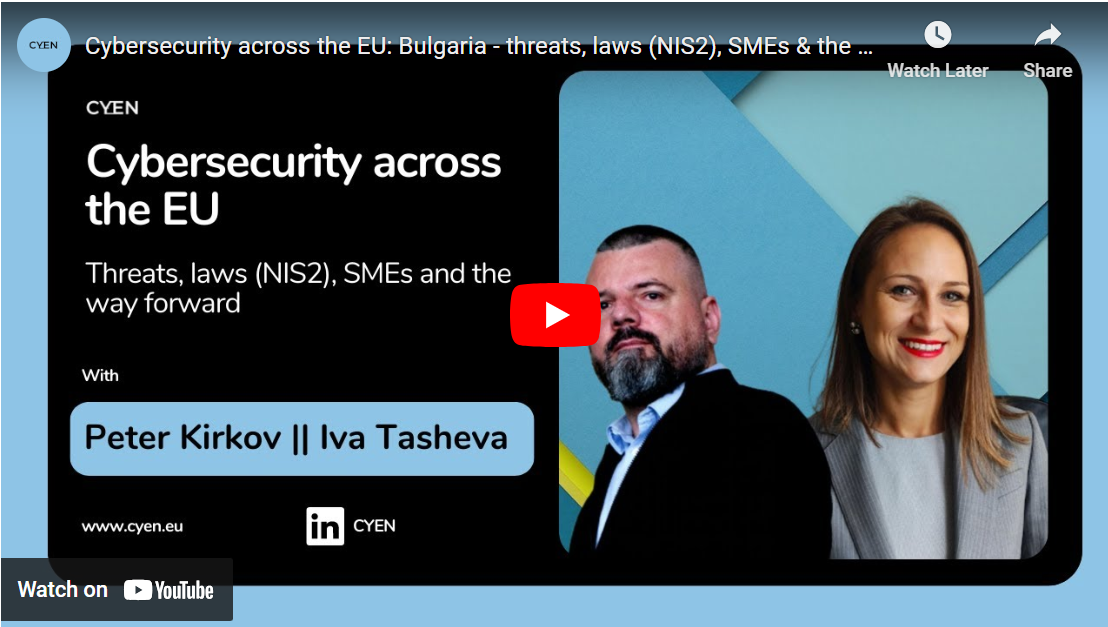 Interview On Cybersecurity across the EU: Bulgaria
On 12.04.2023 Cyen's Iva Tasheva interviewed Peter Kirkov, the Bulgarian National Cybersecurity Coordinator and Director of Network and Information Security Directorate at the Ministry of E-Government.
Mr. Kirkov analysed the current threat landscape and how it is seen from the Bulgarian perspective. He also shared an update on the transposition status of NIS2 and on what issues Bulgaria is ahead of the game compared to the other EU Member States. We also talked about the possibilities for SMEs in Bulgaria to gain access to programs and funding on how to tackle cybersecurity threats related to their businesses.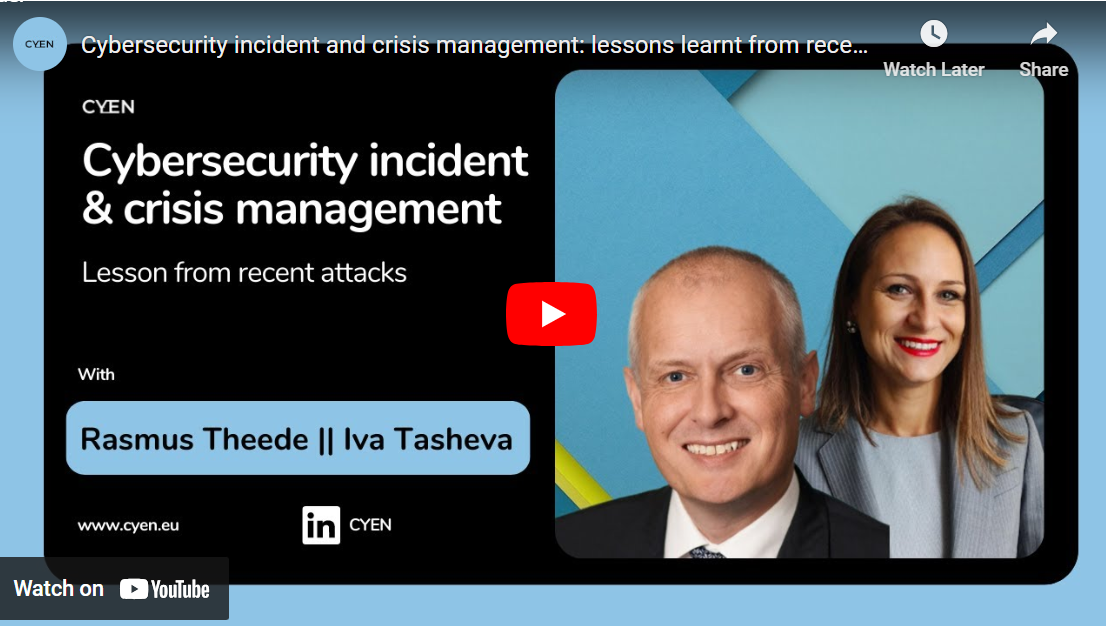 Interview On Cybersecurity Incident and Crisis Management
On 22.02.2023 Cyen's Iva Tasheva interviewed Rasmus Theede, Senior Information Security Specialist.
Rasmus will share his experience with emblematic cybersecurity incidents, from the first global incident to the latest Danish trains interruption.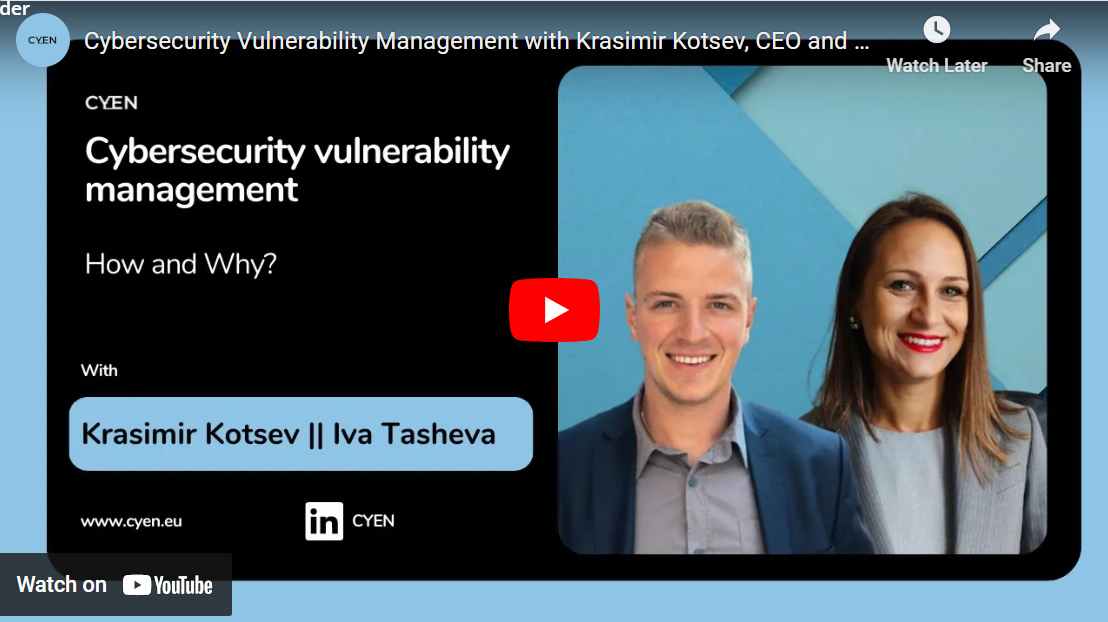 Interview On Cybersecurity Vulnerability Management
On 15.11.2022 Cyen's Iva Tasheva interviewed Krasimir Kotsev, CEO and Founder, SoCyber & Kikimora.io, on security vulnerability management.
Questions addressed include: What are the best practices in vulnerability management? Are there sector-specific particularities to take into account? – What would be the most significant challenges for companies to comply and demonstrate compliance with EU cybersecurity legislation? What should a company prepare for pentest or ethical hacking know? What is the key to the success of European security companies?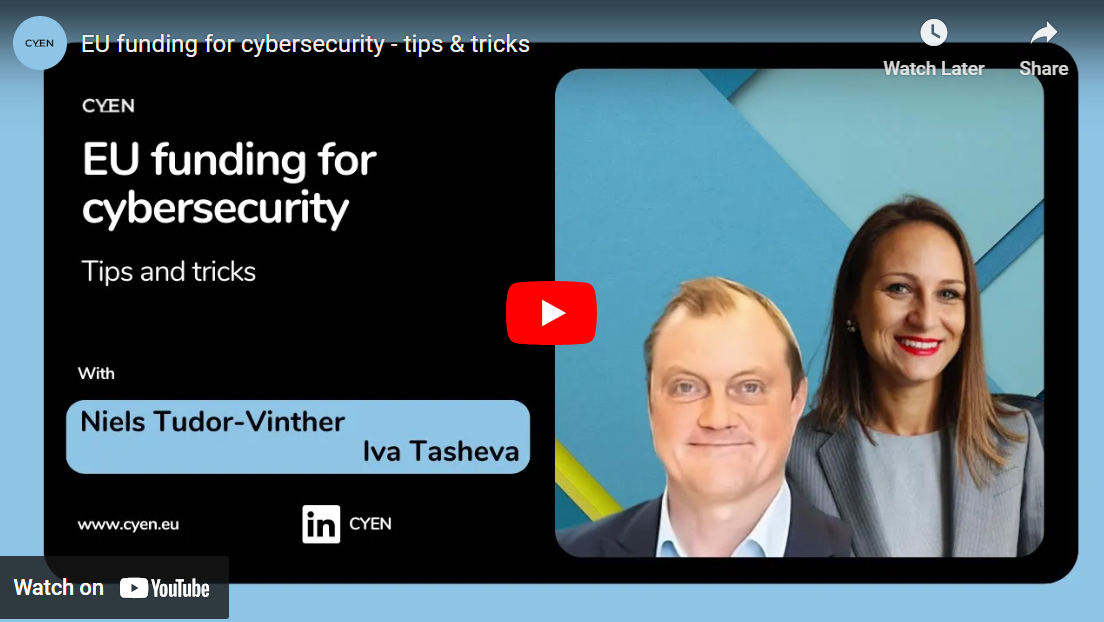 Interview On EU Funding for Cybersecurity
On 03.05.2023 Cyen's Iva Tasheva interviewed Niels Tudor-Vinther.
He will share his insights on the many different opportunities for EU funding for cybersecurity. The interview will shed light on the different options for funding (for instance at EU vs national level, grants, tenders, co-financing, loans) and will give details on the pros and cons of each type of funding. Our expert will tell us more about the conditions for applying for EU projects and grants. Most importantly, we will offer companies insights on how to look for help take on their fundraising journey, the procedural steps to take and the key milestones to achieve.
Interview On Ransomware
On 15.12.2022 Cyen's Iva Tasheva interviewed Patrick Wheeler, practitioner and executive cybersecurity transformation leader and a Director at CyberWayFinder.
On what to do when you fall victim to a ransomware attack. Questions addressed include: What to do when falling victim to a ransomware attack? Who can help you then – the government, law enforcement, experts, or community? Can you get your way out of the situation with communication? How to communicate with: attackers, the government, internally in the organisation, clients and the general public? To pay or not to pay? What are your current projects, and where can people follow your work?
Interview On The Cybersecurity Rules For Artificial Intelligence
On 22.07.2022 Cyen's Iva Tasheva interviewed Kai Zenner, Head of Office of the Member of the European Parliament Axel Voss.
Kai shed light on the upcoming AI Act, what it is, and the key challenges in defining and implementing it. What does the AI Act mean for cybersecurity, how it fit in the complex EU legislative framework, and what companies could do about it? Hear out from the expert.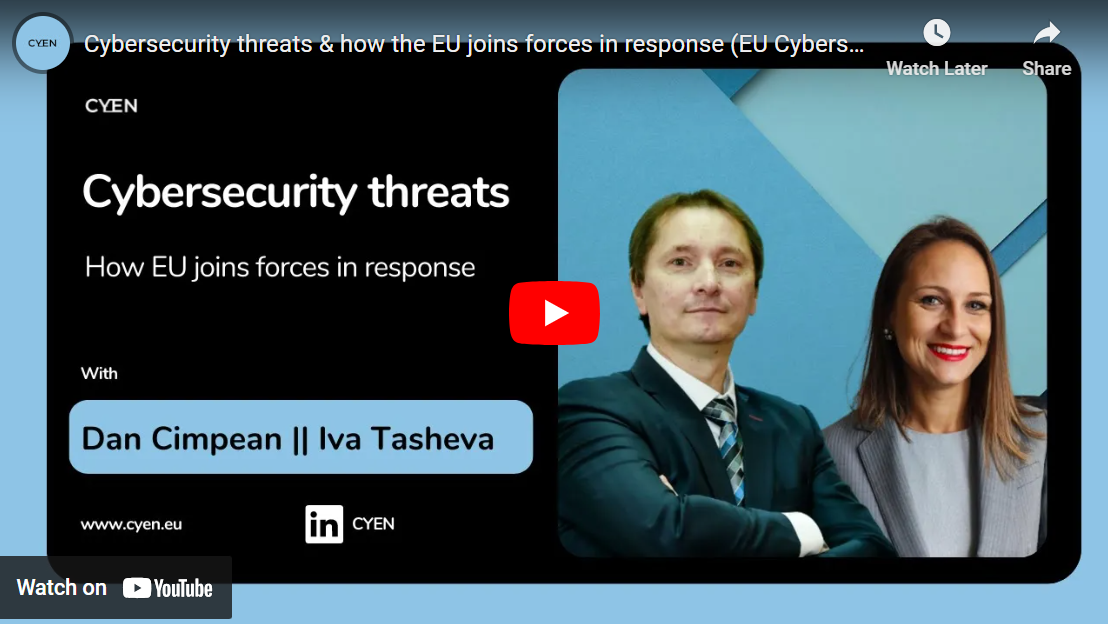 Interview on the EU Cybersecurity Competence Centre (ECCC)
Cyen's Iva Tasheva interviewed Mr. Dan Cimpean, Board Member of the European Cybersecurity Competence Centre (ECCC) and Director of the Romanian National Cybersecurity Directorate. Mr Cimpean shared his vision on how to improve EU cybersecurity, specifically on the role of the upcoming ECCC (European Cybersecurity Competence Centre), and tips and trick on how to get involved in the process. Hear his recommendation on what should be the key EU policy priority.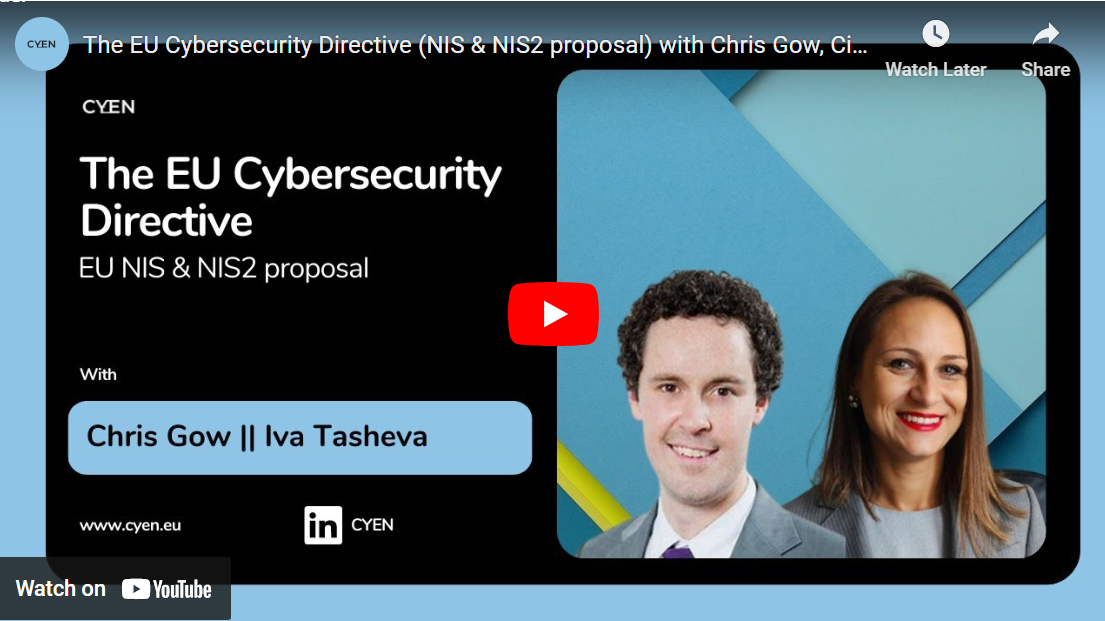 Interview on the EU cybersecurity Directive (NIS and NIS2 proposal)
On 11 June, Cyen launched a series of interview sessions with the first honorary guest: Chris Gow, Cisco. Chris shared his expert analysis and advice on the EU cybersecurity Directive (NIS and NIS2 proposal).